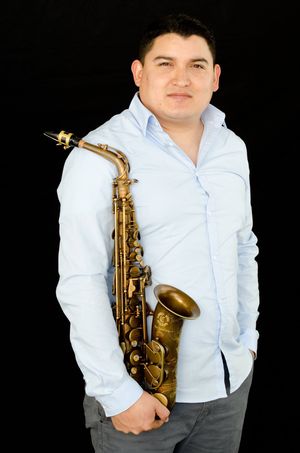 Manuel's first formal introduction to music came at an early age while playing clarinet in his middle school concert band in Albuquerque, New Mexico. His passion for music of different styles drove him to learn various instruments such as bass clarinet, contrabass clarinet, and even the tuba and percussion during his years in middle and high school. Saxophone, on the other hand, was not an instrument he learned to play until his sophomore year, when a spot for a baritone saxophone opened up in the jazz band. Soon after, Manuel began playing with various local groups at different events around the southwest region, thus starting his musical career.
Later, Manuel enrolled in The University of New Mexico and joined the jazz studies program under the direction of Glenn Kostur, former saxophonist, composer, arranger, and musical director for world-renowned trumpeter, Maynard Ferguson. At the same time, he had the opportunity to learn from, and share the stage with, such notable musicians and educators as Gerald Wilson, Clay Jenkins, Bruce Dalby, Scott Whitfield, Reggie Thomas, and Chip McNeil, among many others. All the while, Manuel continued to play with numerous bands of all different genres around the city and region.
Some of the musical projects Manuel has performed and/or recorded with include Paquita La Del Barrio, Sparx, Jerry Lopez, Lorenzo Antonio, Jesus Diaz, Consuelo Luz, John Courage and The Great Plains, Drastic Andrew, Naiz Denae, and Cowboys and Indian, to name a few. Currently, Manuel is part of the latin band Nosotros, a group that fuses different latin rhythms and sounds with jazz and other genres. In this musical project, Manuel contributes as saxophonist, singer, percussionist, composer and arranger. At the same time, Manuel manages the popular YouTube channel "ramirezsax," in which he creates educational content for other saxophone enthusiasts.