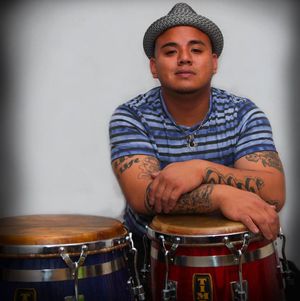 Ricardo "Ricky" Luis Carrido has studied latin percussion and conga as a student of his father, Romeo Carrido, as well as Afro-Cuban traditional music from the age of three. Ricky was very fortunate to take his studies to another level learning with a lot of master drummers from Cuba.  He often presents workshops focusing on Afro-Cuban folklore for the San Diego School District, as well as teaching at the Oceanside Museum School of Art, K-5 Music at La Costa Meadows Elementary, Palomar College, and The Remo Drum Center in North Hollywood. Ricky now resides in Albuquerque, New Mexico were he teaches Afro-Cuban Folklore Drumming at the New Mexico Jazz Workshop along with his father Romeo Carrido. Ricky is also active as a private instructor with numerous private students.
Ricky has performed and/ or recorded with such artists as Stevie Wonder, Jessica Simpson, Alfredo de La Fe, Chuchito Valdez, Chucho Valdez, Pete Escovedo, Larry Harlow, "Mr Bongo" Jack Constanzo, Bruce Cameron, Latin Jazz All-Stars, Jimmy Patton, Seguida, Orquesta Primo, Charanga Cubana, Agua Dulce, Afrotuko, Gilbert Castellanos, Manny Cepeda, Ron Igarta, Mark Lamson, Silfredo La O Vigo, Seguida, Jesus Diaz y su QBA, Amilkar Peña, Ozomatli, B-side Players, and Poncho Sanchez. Also Ricky was featured in several top leading magazine such as Modern Drummer Magazine, Latin Beat Magazine, World Beat Percussion Magazine and numrous local newspapers.  This includes being interviewed on K-Jazz 88.3 FM, one of the top lead radio station on Latin Jazz and Salsa in California.
He also leads a cuban band called Luna Llena which he co-directs with his father. He Joined Agogo Afro-Cuban Drum and Dance troop in summer 2007 as its newest member. As of the winter of 2008, Ricky Carrido became a sworn batá drummer (Omo Añá, or child of Añá, the deity that lives in the batá drum) from the batá set by the name Obbá koso that belongs to the Obbá Enrique Barriero, from Mantanzas, Cuba. Obbá koso comes from the branch of Ewaddo, from the house of Fermina Gomez, who brought the secret of Olokun' to Cuba. Since 2011 Ricky has resided in Albuquerque, New Mexico. He has worked with Baracutanga, Pandemonium, Wagogo, Calle 66, and Radio La Chusma. Ricky is now active with a grammy nominated group from New Mexico called, Nosotros.
Ricky is a Kaman' Artist and is Endorsed by Toca Percussion, Remo Drum Heads, Gibralter Hardware, Machudo Cajons, Kopf Percussion, and Rhythm Ring.
Teachers: Romeo Carrido, Amilkar Pena, Harry Tippins III, David "La Mole" Ortiz, Tata Guines, Changuito Quintana, Francisco Aguabella, Mark Lamson, Nengue Hernanadez, Silfredo Lao Vigo, Yosvany Verdecia, Clave Y Guaguanco, Conjunto Folklorico De Cuba, Ballet Folklorico De Cutumba, and Carlos Aldama.